Great pics Mick, such a big cat and so little dust
cheers and happy building
terryk
---
Cheers Terry, 2 reasons for that:

A = Mum still cleans up after me (the boat is being built on the pares land)

B = I haven't really sanded anything yet (therefore likely to regret the 'big' bit you mention soon............)

Mick
---
ITC

Dining Table is about 700mm x 1550ish (end not square to open up room in center of salon)

Overall the booth is about 1850mm x 2200mm

Seat bases are 400mm and the seat back angle is 15 degrees from memory.

Our seat base elevations are 450mm for the dining and 320 for the lounge.

Really you have to work with the space your salon allows and your GA. 400mm seat bases seem OK but wouldn't want to make the table less than 700mm I dont think?

Mick
---
teamROAM wrote:ITC

Dining Table is about 700mm x 1550ish (end not square to open up room in center of salon)

Overall the booth is about 1850mm x 2200mm

Seat bases are 400mm and the seat back angle is 15 degrees from memory.

Our seat base elevations are 450mm for the dining and 320 for the lounge.

Really you have to work with the space your salon allows and your GA. 400mm seat bases seem OK but wouldn't want to make the table less than 700mm I dont think?

Mick
Thanks mate...want to check it against the area I have set aside...yours look like a good proportion...
Regards
Other Mick
Mick
If all you have is a hammer...everything is a nail!
---
OK well looking back at the last lot of pics you will need a trained eye to see what we have been doing over the last 8 months as some shots seem about the same as the last update............ we have been trying thats for sure!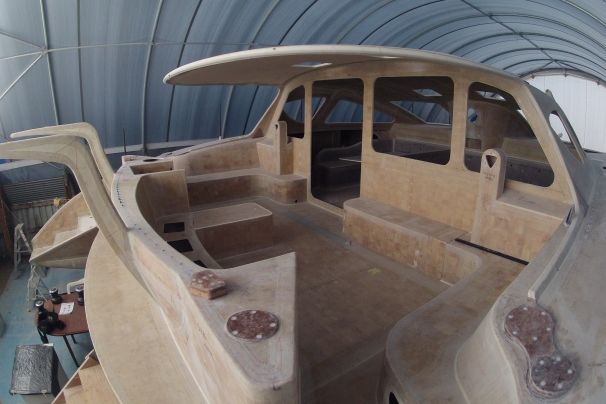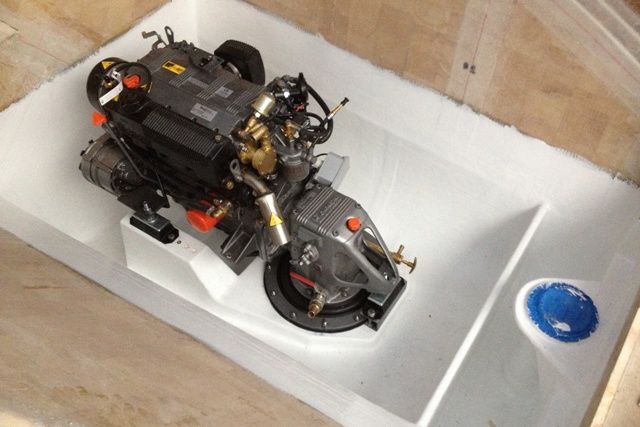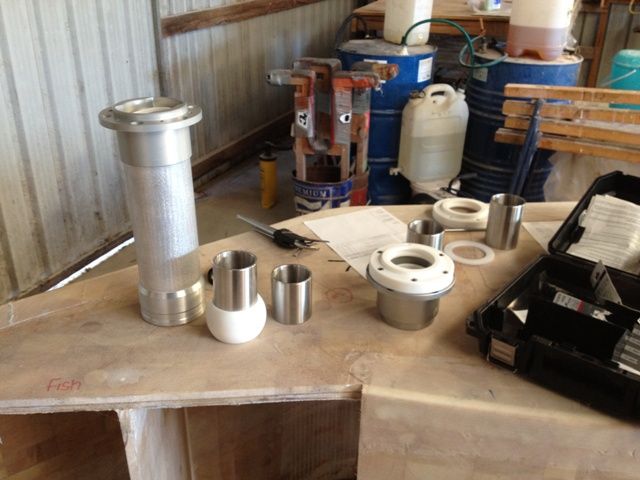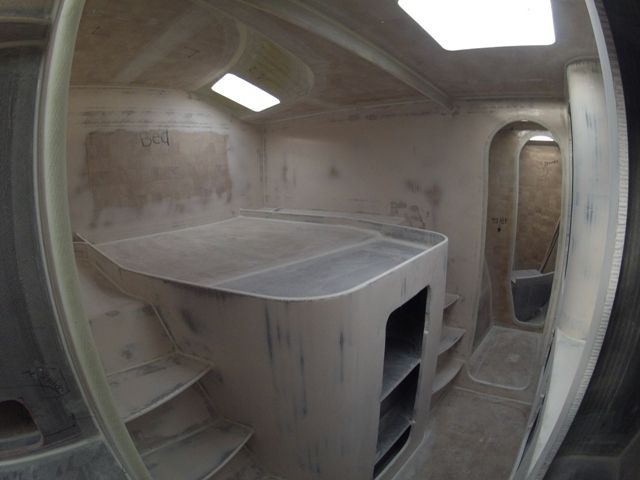 ---
Great looking job. Some seriously expensive looking shiny bits there.
Jim.
---
Hi Mick
Your boat is looking great, are they Lombardini's your put in there and how is the access to the engine bay.

Dazza
---
Hi Dazza

Yeah they are Lombardini 1404's (40hp). Access is through the white hatches you can partly see in the 2nd pic (There is some ply over the top half as we are walking over them all the time).


Jim, roger that mate likely to end up with a nice power cat and back to work to buy some mast and sails.... The three blade props were crazy expensive so 2 blade ones it is!
---
Hey Mick,
Was one of those shots the Jefa Rudder bearings you were talking about. If you have time can you detail what you did, I cruise their site every now and then but hard to see which bits to use. I assume you did your own stock.
Steve
---
Hi Steve

Sorry slow reply. Haven't been closely following DIY Yachts for a while.

Rudder bearings were the reason I found this site back in 2010 so yeah should probably do a follow up.

I wanted an "off the shelf" wearing surface in the bearings so I could get spares based on a part number. Ended up working on sourcing parts for ages as wanted the steering to come out spot on. Hopefully I have it sorted but we will have to wait and see

Basic System Description:

• Mechanical Steering System From SPJ Yachts
• Home made. E glass tillers
• Bearing system from JP3 France (self aligning) Top bearing is a 10.13.07 and the bottom is a 10.11.07 and they come with a joining tube.
• Home made carbon rudder shafts (ATL R246TX resin) with Stainless sleeves from JP3 to suit spherical bearings. Couple of layers of E Glass over carbon so no exposed carbon.
• Foil skins from Bruce Arms moulds taken of his boat Big Wave Rider. E Glass/Foam/E Glass
• Composite wheels from Spirited Designs (non carbon). Will just paint them.

Went with the JP3 system over the Jefa and Lewmar as they had a non roller bearing option that saved heaps of $. Easy company to deal with and really wanted them to produce the sleeves and trial fit with the spherical bearings prior to dispatch which other companies either couldn't produce the whole system or wouldn't do.

Mick
---